When completed, the Gitchi-Gami State Trail (GGST) will be an 88-mile non-motorized, paved recreational trail between Two Harbors and Grand Marais, Minnesota, along Lake Superior's beautiful and historic North Shore. Several segments of the trail, totaling over 29 miles, are complete. A new section between Silver Bay and the West Road in Beaver Bay, just east of the Beaver Bay trailhead, was completed in summer 2012 and was officially opened in June 2013.* Another short segment connecting the tunnel under Hwy 34 with the Lutsen Ski Hill Road was completed this fall.** Keep up with
trail progress
on this website.
With the construction of the Gitchi-Gami State Trail, as well as wide shoulders on portions of Highway 61 and paved state and county roads, the North Shore of Lake Superior is becoming a premier bicycling destination. The trail is also popular with walkers, joggers and skaters. There is no fee or trail pass required to use the trail, although parking in the state parks does require a daily or annual pass.
The Gitchi-Gami Trail Association (GGTA) is an all-volunteer nonprofit organization formed to work with the Minnesota Departments of Transportation and Natural Resources in the planning, development, construction, maintenance, and promotion of the trail, and to organize trail activities, including the
Annual Ride
.
*Read about the Silver Bay-Beaver Bay trail dedication and other GGTA news in the Spring-Summer edition of Gitchi-Gami State Trail News.

**Read about the new Lutsen trail section and other trail news in our latest newsletter, the Fall edition of the Gitchi-Gami State Trail News.
Join us!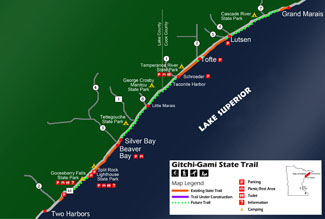 Click map to enlarge